Eggnog Crème Brulee
4 cups whipping cream
2/3 cup sugar
8 large egg yolks
1/4 cup dark rum
1 tbsp. brandy
1/2 tsp. ground nutmeg
pinch of salt

1/3 cup packed brown sugar

Preheat oven to 350. Place 11x8 inch shallow ceramic baking dish in a roasting pan.
Mix cream and sugar in a medium saucepan. Bring to a simmer stirring until sugar
dissolves. Whisk yolks in a medium bowl. Gradually whisk the hot cream into the
egg yolks. Then add the rum, brandy, nutmeg and salt. Transfer this mixture to the
baking dish. Pour enough hot water into the roasting pan to come halfway up the
sides of the baking dish. Carefully put the roasting pan in the oven.
Bake until the custard is set around the edges, but the middle is still jiggly when
shaken gently, about 40 minutes. Remove ceramic dish from roasting pan and chill
on a rack for at least 3 hours. You can cover it and chill overnight.
Preheat Broiler. Press brown sugar through a strainer over the custard covering
completely and evenly. Watching very closely, broil custard 4-6 inches from the
heat until the sugar bubbles and caramelizes. Chill until topping hardens, up to 3 hours.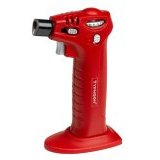 Click the photo to get your own cook's torch for crème brulee