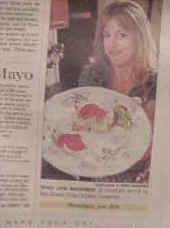 This is a reprint of a newspaper article from Glendora:
Potluck queen reigns with popular casserole,
anytime!

By Dorothy Reinhold
Correspondent

Just call Tracy Lynn Baughman of Glendora the potluck queen. That's
the way she feels when she brings this scrumptious Green Chile Chicken
Enchilada Casserole as her offering. First comes the tasting, as party-goers dig
in, and then comes the murmuring. "Who brought the chicken enchilada dish?"
"I always know it's going to be a big hit when I bring it. And
people always ask for the recipe," she said. And those who have tasted it
before often request ahead of time that she bring this casserole. Nothing else
will do. It is also Tracy's standard gift to new mothers. When a friend has
a baby, Tracy makes up a pan of it and delivers it to the new mother, and
then sits back to waits for the woman to call. "My friend will say, "I
have to have that recipe because my husband fell in love with it.''
So, who brought that chicken enchilada dish? Tracy did, and she's
happy to share it with fellow readers today. Although it would be timely and
make a dandy offering at a Cinco de Mayo buffet, it is good all year long, and
it's so popular with Tracy's family that they demand it as one of their
weekly "must have" menu items.
That's really saying something for this family of six, which
includes husband Jeff, a city inspector for Glendora, and children Joshua, 13,
Tiffany, 8 1/2, Hannah, 3 and Holly, 15 months.
Tracy, 31, got the recipe from a book long ago, and kept tinkering
with it until she got it just the way she likes it. "I wanted sort of a
"Chevy's" taste to it, so I decided to char the tortillas," she said, as an
example of one of her many refinements. "Also, that way you avoid the whole guilt
trip of frying the tortillas in oil, as you usually do with enchiladas."
"I've been cooking for a long time. I got married when I was 16,
and didn't know anything. I started with eggs, and just read recipe books,
and watched cooking shows, and little by little, I learned how to cook. I
don't cook out of cans and boxes. I don't dump a can in a pan and say,
"There, that's dinner.'' " I make all my own sauces and gravies," she said with
pride. She's also credits her Hungarian heritage with her cooking prowess.
"Hungarian people are known for cooking and loving to cook."
Tracy's computer screen name -- Sgrcooki -- even hints at her
kitchen passion. So does that mean there is, perhaps, another great recipe
waiting to be shared? No such luck. "My mom, who was Miss Computer
and had her own bulletin board and gave me this name about
10 years ago. She just assigned it to me, and it stuck."
Oh, well, we can dream.