What I call a "Pub Cheese" is one that has something in it, like mustard seeds, garlic, onions, etc.
These would tend to go better with beer than wine. I have them with wine anyway, since I am
not a beer fan. This is just my interpretation of what is a pub cheese and not necessarily a
standard definition. I have found that my customers tend to really enjoy the pub cheeses,
they are very different and have distinctive flavors. Click on the banner below to order any
of these fantastic cheeses.
Austrian Pumpkin Seed Cheese
Die Kaesmacher cheese is produced in the untouched nature of the Waldviertel Plateau in
Lower Austria. This region is well known for its high alpine areas, deep meadows, and
wide plains. Die Kaesmacher is well known in Austria for its wide selection of cheeses
using traditional recipes. One of their more unique offerings is a semi-hard cow's milk
cheese with chopped pumpkin seeds. The chopped pumpkin seeds give this crumbly
cheese an intriguing texture. The tangy flavor lends itself well to its smooth, almost buttery
finish. This is not such a traditional pub cheese, but I think it fits in this category best.
I love to take it out on Halloween and at parties for Little League.
It is good anytime and works well in sandwiches.
Chimay Trappiste with Beer
Just north of the French border lies Chimay, a town in the Belgian forest of Mont du Secours.
In 1850, Trappist monks built a Cistercian Abbey there as a place to study, pray and work.
In 1862, the monks added a dairy and a brewery to the Abbey to help generate funds for their
livelihood. Soon thereafter, they started making cheese from milk produced at the dairy that
became quite popular at the local marketplace. Our Chimay cheese is a variation of their original
recipe, but is even more special, as the rind is washed with their already famous Chimay
beer rather than ordinary spring water. This new variety developed an incomparable flavor
that delighted the nose as well as the palate. The cheese is semi-soft and has a nutty,
well-finished flavor with just a hint of hops and malt. While its aroma is quite strong, the
taste of the cheese itself is somewhat mild but not at all bland. This cheese is made with
scalded cow milk. This is a very good Super Bowl cheese since it is redolent of strong beer
aroma and taste.
Panquehue
The Panquehue (pan-KAY-way) region is a fertile plain in the Aconcagua valley that is full of
local aromas and flavors. This is where Panquehue, one of Chile's finest cheeses, is born.
Although it is reminiscent of Tilsit, Panquehue has a character all its own. Available plain or
flavored with mild red pepper or chives, this cheese is a must-have for the cheese fanatic.
We like this one with eggs, either scrambled or in an omelet. Our friend, the cheese fiend,
Rick, likes it on his pastrami sandwich.
Cream Havarti
About 100 years ago, a farmer's wife who lived in North Zealand (one of Denmark's most
romantic islands -- a trysting place for lovers) became interested in the art of cheese
making. She traveled through Europe to learn the secrets of this craft. Upon her return,
she began to experiment with her newly acquired techniques. She named her finest creation
after her farm, "Havarthi". Today's Cream Havarti is a direct descendant. It has an ivory interior
patterned with a myriad of tiny holes and is mild, creamy and mellow. This comes in garlic
and herb, dill, jalapeno, caraway and chive. These make outstanding grilled cheese sandwiches
and cut in chunks to go with a frosty beer, they are perfect.
The nice thing about Havarti is that almost everybody likes it. From picky kids to grandma,
you can serve it to anyone.
Cotswold
Cotswold, also known as "Pub Cheese," is the name given to this hearty cheese that combines
Double Gloucester with flavorful bits of chive and onion. A harmonious blend of mellow, crumbly
cheese and powerful vegetables. In England, it is a notoriously popular pub cheese that is
commonly served with hard-crusted bread and a strong, dark ale. Wonderful melted
on grilled chicken or chops, and atop burgers. This is the standard bearer for this category
of cheeses. It is always a hit at cheese tastings and sports gatherings.
English Cheddar with Caramelized Onions
From the historic Wensleydale Creamery in England. Creamy, buttery cheddar is perfectly
blended with tangy, caramelized onions to produce a new English favorite. As versatile as it is
addictive, this new cheddar can liven up everything from simple sandwiches to hot dogs and
grilled portabellas. It just gets eaten with crackers or alone at our house
before we get a chance to cook with it.
Farmhouse Peppashire
This is a classic English cheese with a twist. Butler's Lancashire is a creamy white open
textured cheese with a mild flavor, made by hand using traditional methods then matured
by hand for 2-3 months. Peppadews are the first truly new and unique fruit to be launched
since the kiwi in the 1970's. These sweet piquant peppers come from South Africa's northern
provinces. This fusion of old and new complements each other perfectly. With a generous
amount of chopped peppadews throughout the cheese, the result is a creamy textured
cheese with a mild zing. Wonderful as a snack, on sandwiches, and for melting.
Royal Revenge
It seems a year can't go by without the British creating a wild new cheese. Royal Revenge is a
layered cheese combining smooth and supple Sage Derby with brash and flavorful Shropshire
Blue. A cheese that is green and orange had better be good, and believe us, this one is going to
become quite popular indeed. The two cheeses combine to offer a strong visual statement and a
palate pleasing flavor. Be the first in town to serve some up - it will be the hit of your next party.
I had to add a picture of this one because you have to see this. A great conversation starter at any
party. I would not cook with this one.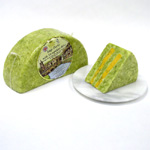 Royal Windsor
Royal Windsor is a British creation, combining three wonderful flavors into one of the most
visually striking cheeses the world has ever seen. The base cheese is cheddar, which is
marbled with bright red, fruity Elderberry wine. Inside is a layer of veiny Blue Stilton,
offering its tangy, distinctive flavor. The taste combination is extraordinary and the presentation
will certainly draw many oohs and aahs at your next party.
This one is layered similarly to Royal Revenge.
Sage Derby
Mass-production of this product has led to the deterioration of the quality of most Sage Derbies.
But iGourmet's Sage Derby is still the real thing. The coloring is done using spinach juice
like most Sage Derbies, but this dairy mixes actual chopped sage leaves into the cheese
curd rather than mixing sage powder into the milk like most companies do. This results in
a fresher sage flavor, and it is this flavor that lends Sage Derby its charm. This is a very
mild cheese and goes well in a turkey sandwich.
Whisky Cheddar
If imitation is the sincerest form of flattery, then English Cheddar has been extremely
complemented by every dairy-producing country in the world. This particular luscious, tangy,
authentic English Cheddar has an additional allure. It blends sweet Farmhouse Cheddar with
a whisper of extra fine single malt Scotch Whisky, giving the cheese a slight smoky bite. The
two flavors work together so well, you'll wonder why all Cheddars don't come this way.
Encased in a protective and attractive black wax, this item makes a very presentable addition
to the cheese board. Pair this with a nice single malt scotch for a memorable gift.
Boursin
Made from the finest fresh milk, cream, herbs and spices, Boursin Spiced Gournay Cheese is
100% natural and Kosher certified. Boursin's rich, full flavor and creamy, smooth texture are
perfect for snacking, baking and broiling. This beautifully packaged product is also ideal for
gift baskets. Gourmet chefs from around the world use Boursin as a pivotal ingredient in
dishes that range from appetizers to entrees. This comes in peppercorn and garlic and
fine herb flavors. This is nice mixed on top of a chicken salad or spread on a bagel.
Gaperon
Known in Auvergne for at least 1,200 years, Gaperon comes from the word "gap" or
Gape" meaning "buttermilk" in the local dialect. This soft cow's milk cheese was created
from the liquid that was left in the butter churn (buttermilk) and mixed with fresh milk. Today
it is usually made with partially skimmed milk and inoculated with penicillium candidium to
create a white mold on the rind and allow it to ripen from the outside in. Garlic is plentiful in
Auvergne hence the generous addition of garlic. Cracked black pepper is also liberally mixed
into Gaperon. This cheese has an almost Brie-like texture and can be eaten at any stage of
ripening, it is all a matter of taste. Gaperon is a tender, tangy treat that can stand up to beer
and even vodka. This is one of my all time favorites, garlic cheeses sometimes taste a little
strange, but this one is outstanding. Spread some on top of your garlic bread and you will
be in for a real treat.
Klaver Kaas
From our friends at Klaver Kaas come these three wonderful flavored all natural farmhouse
cheeses. Klaver Kaas has their own herd of cow's, which they milk daily to produce these
scrumptious cheeses. Using Holland's most famous export as the base, the skilled chefs at
Klaver Kaas have created two Italian inflected cheeses with deep, satisfying flavors.
Try the Italian Spices or the pesto. Grate the pesto over risotto or a steaming bowl of
minestrone.
Walnut Gouda
Rouveen's Walnut Gouda turns plain old boring Gouda into something fantastic and exciting.
A cheese you will crave endlessly, Walnut Gouda is everything you expect it to be and more.
Subtle yet flavorful, the walnut adds a sensual warmth to the basic Gouda cheese, whose
texture is not gummy like many Goudas on the market. A truly surprising cheese, we
recommend serving Walnut Gouda at your next party or get together. This selection goes
nicely with port.

Kadurim Fresh Goat's Milk Cheese
Hailing from Israel, Kadurim is a tantalizing assortment of fresh goat's cheeses. Starting with
pure fresh goat cheese, the cheesemasters at Barkanit hand-form the cheese into little balls
and coat them with some of the finest flavors of the Mediterranean. The flavors include
Herbs de Provence, sesame, cracked black pepper, raspberry and sundried tomato. This
Kosher assortment is great for entertaining or just for snacking. If you are in the mood for
a wonderful bite-sized goat cheese bursting with flavor, look no further than Kadurim.
This is so unique and easy that it is a must for discriminating entertaining.
Chili Pepper Pecorino
Pecorino is the generic name for Italian sheep's milk cheeses. This special pecorino comes
dotted with red peperoncino flakes that give it a moderate spiciness that tickles the back of
your throat without setting your mouth on fire. The peperoncino is an Italian red chili pepper that is
shaped like a finger and about as hot as a jalapeno. Aged for over three months, the cheese
has a firm texture that makes it a good candidate for slicing or grating. People who like spicy
cheeses like PepperJack might find our Chili Pepper Pecorino to be a sophisticated alternative.
It nicely blends the herbaceous flavor of sheep's milk with the spice of Italian chili peppers.
I like this grated on a bowl of chili.
Pepato (Pecorino Siciliana DOP)
Pepato is a Pecorino (Italian sheep's milk) cheese studded with whole black peppercorns.
A Sicilian specialty, the official name of this cheese is actually Pecorino Siciliana DOP.
This cheese has survived over the centuries despite long periods of drought that made it
difficult to find sufficient grazing pastures, forcing the people of Sicily to choose between
the production of wheat and dairy.
An aged, hard pecorino combined with whole black peppercorns, Pepato is matured to
perfection. Like many of the world's classic cheeses, Pepato originated as a staple
of the peasant's diet. Today, it is enjoyed by all people - rich and poor. This is just spicy
enough to please those that like something a little different.

Rutulin - Select Cut
This little-known cheese from the hills of Cuneo in the Piedmont is one of only a few
pure goat's milk cheeses to come from Italy. It is made today using the same ancient
techniques that were used in bygone eras. A very soft, fresh cheese, Rutulin rivals the
best French chevres we have enjoyed. In fact, our first note was how uncommon it is
to find a cheese like this in the States. Each log of Rutulin is coated with either sesame
seeds or fresh (not dried) wild herbs and aged in natural wine cellars, adding to the
essence of the cheese. Rutulin is a very special product, one that has been made for
centuries and whose recipe has not changed over the years. I gave this cheese as a gift
to the goat cheese lovers on my list and they are still raving about it.
Vegetable Suwalski
In Poland, the town of Suwalski is where small-scale production of cheese takes place. Due
to Poland's mild summers that are often accompanied by frequent showers, the green pastures
retain their healthy glow. Vegetable Suwalski with Paprika is one of the most popular cheeses
of this fresh crop. A smooth, creamy cow's milk cheese, it is packed with assorted vegetables
and loaded with flavor. The whole brick is then coated with fine ground paprika, encasing the
taste and adding a little extra bite to an already savory and flavorful cheese. When you try it,
you will most certainly be surprised that such a masterful cheese originates from Poland, a
country not well known for its gourmet cheeses. This is a good melting cheese and it is affordable.
Horsefeathers Cheddar Horseradish Spread
This is a "spreadable" cheddar. It's unique blend of Fiscalini's world acclaimed San Joaquin
Cheddar, with feathery horseradish and sour cream formulates this tasty treat. Horsefeathers
is great for snacking with crackers or raw vegetables, as a dip or sandwich spread, or paired
with prime rib or baked potatoes. Many cooking applications abound such as creamy horseradish
mashed potatoes. It is packaged in 8 ounce containers with a whimsical label. This just has to
be tasted to be believed. I have to order it sparingly, because it gets eaten all at once.
Wasabi Capri
Also known as "Japanese Horseradish," real Wasabi paste is made from the rhizome of the
wasabi plant. Rather than using cheap substitutes, Westfield Farm's Wasabi Goat Cheese uses
100 percent pure Wasabi and a touch of chives. It is a hot and handsome taste that quickly
clears the palate.
Cowboy Cheddar
Christian Cheese, founded by George and LaWanna Christian, is located in Kingfisher,
Oklahoma. Kingfisher is locally referred to as the "Buckle of the Wheat Belt." George and
LaWanna make their cheese from grade A milk produced on their very own dairy farm.
A true small-scale producer, Christian Cheese produces about 50 pounds of cheese per day.
Featured on the television show Food Finds, which airs on the Food Network, Christian
Cheese has acquired some recent notoriety. Their Cowboy Cheddar is a special recipe that
incorporates 10 different spices in one tasty cheese from the prairie!
Black Mountain
Black Mountain is a new creation from the makers of Tintern and Red Dragon. A combination
of garlic, herbs and wine blended with their creamy cheddar makes this a potent, assertive
cheese. Try melted on baked potatoes, stuffed in chicken or on its own with crusty bread
and washed down with a pint of ale.
Harlech
The Welsh are continuing to create new and exciting cheeses, showing the world that
there is more to them than the simply delicious Caerphilly. Harlech is a zesty, smooth
cheese named after Harlech Castle in Northern Wales.
Harlech is a mature cheddar blended with horseradish and parsley. This vegetarian cheese
is perfect as a table cheese to add a contrast to any cheese course , paired with a beer
or a Rioja, and adds a new piquancy to cheese based dishes. This is one of my
favorites, we have Harlech around the house regularly. Great on crackers, melted on
a burger or a sandwich.
Red Dragon
By World War II, cheese production in Wales had nearly ceased; run out of business
by large cheese making factories in England. Fortunately for us, there has been a revival
of old ways by a new generation of cheese makers. They have saved Caerphilly
(the only traditional Welsh cheese still made) from the factory-made processed form
it had become in England to its original farmhouse character. Now they are creating other
fine cheeses such as Red Dragon, also known as Y-Fenni. This smooth, firm tasty Cheddar
is made with Welsh brown ale and mustard seeds. Red Dragon is a buttery and spicy cheese
with plenty of bite, but is not too hot. Not only do the mustard seeds give Red Dragon its
marvelous flavor, but also its texture. The brown ale makes the cheese moist and tangy.
Red Dragon is aged for 3 months, made from cow's milk and is vegetarian. Along with
Harlech, this is also a staple at our house. Every year we have to send some to our
friends in Montana.
Tintern
The Cistercian abbey of Tintern is one of the greatest monastic ruins of Wales. Erected in
1131, it was the second Cistercian abbey in all of Great Britain, and the first in Wales.
This blended Welsh cheese is named after the Tintern Abbey. With loads of chives and
shallots mixed throughout its cheddary body, it makes a great pub cheese, especially
appreciated when served with your favorite beer or ale. Its exterior is protected by a
generous coating of bright green wax, which serves to highlight the green flecks of chive
inside the cheese and completes an outstanding presentation. Tintern completes the triad
of Welsh cheeses that we keep along with Red Dragon and Harlech. They are always
great for a quick snack.
Green Thunder
The year 2001 saw the launch of 'Snowdonia Cheese Company' - wholesome fresh
milk - ripened, pitched, cheddared and pressed – into the finest cheese – in a world
class creamery, in the Vale of Clwyd. This area is home to heavy rock, lush grassland,
and neighbored by rolling vales and landscapes. Green Thunder is produced from the
areas rich cow's milk.
Green Thunder is a mature cheddar with the addition of garlic and fresh garden herbs.
Wonderful as a simple lunch with a crusty baguette and a flavorsome addition when melted.
This is the newest of the Welsh "pub cheeses" and I haven't had the pleasure of trying
this one yet-I can't wait.